Welcome to Step2 Direct Shopping: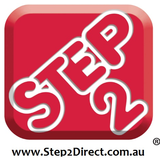 Merry Christmas!

Our order cut-off date for Christmas delivery is 17th December at 10:30am
All orders received up to this time will receive delivery prior to Christmas (this does not apply to WA, NT & SA regions)
Pick-up order can be accepted up to Sunday the 22nd of December at 10:00pm
Fast Delivery ~ All orders are usually dispatched from our Sydney warehouse the same day or next business day!
Step2 is the largest American manufacturer of preschool and toddler toys and the world's largest rotational molder of plastics. We are Step2's exclusive distributor in Australia and we import products directly from the Step2 factory in the USA. We offer top quality products at competitive prices, a fast and efficient delivery and great customer service. All Step2 products carry a 3 year manufacturers' warranty against defects.

We have a large range of Step2 indoor and outdoor products that include, Playhouses & Cubbyhouses, Playkitchens, Sand and Water tables & toys, Climb and Slide Climbers and other outdoor play activities, Preschool toys, Roll Play toys, Amazing Coup cars, Ride on Toys, Waggons and Scooters, Art Easels and Desks, Beds, Sports toys, Baby Toys and much more...

Please feel free to contact us if you have any questions as we are always happy to assist.

Contact details:
Email: info@step2direct.com.au
Phone: 1300 665 882
Website: www.step2direct.com.au
Thanks for shopping with us!